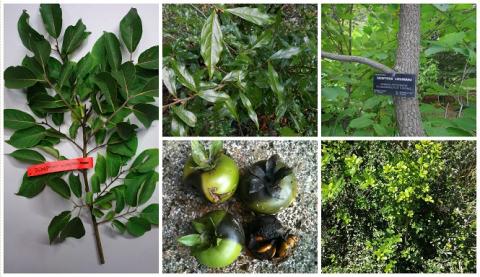 BGCI has published the first global survey of ex situ ebony collections, commissioned by Missouri Botanical Garden. Our report highlights that 76% of ebony taxa are not represented in ex situ collections, lacking this vital conservation measure that could save them from extinction.
The Global Survey of Ex situ Ebony Collections was commissioned by Missouri Botanical Garden (MBG) as part of their Global Ebony Assessment.
The ebonies (Diospyros spp.) are an economically important tree group, providing timber, medicine and food. People may be familiar with persimmons and the ebony wood used in furniture making and the production of musical instruments; however they may not be aware that many Diospyros species are threatened with extinction, often as a result of overharvesting for timber and habitat loss.
Our report shows that only 24% of ebony taxa (193 of 806 taxa) are reported as held in ex situ collections. Ex situ collections are a vital conservation measure offering protection to species away from their native habitat and any in situ threats. Ex situ collections can also form the basis of reintroduction and restoration programmes, therefore helping to improve the conservation status of ebony species in the wild.