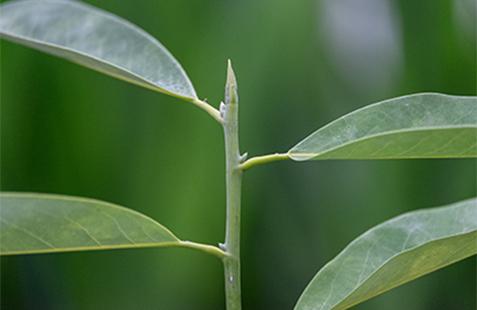 By Naila Moreira/ Published January 14, 2015
An Aztec curse seemed like a minor obstacle as Rob Nicholson, manager for the Lyman Conservatory of the Botanic Garden of Smith College, climbed a monkey-hand tree in Oaxaca, Mexico, to gather plant samples. The Aztecs forbade the plucking of the tree's fruit and revered the medicinal properties of its hand-like flower. But Nicholson had long hoped to collect the plant's seed. He made his way toward the oblong pods on the upper boughs. Who believes in an ancient curse, anyway?
Nicholson's collecting trips have taken him all over the world. As conservatory manager, he oversees efforts to propagate and share the plants he has collected as well as those he receives from other botanists for research and preservation efforts. The plants are housed in the Lyman Conservatory or sent to arboretums and conservatories in the United States and overseas. Nicholson also curates the conservatory's collection of more than 2,500 plant species. That includes managing the annual bulb and chrysanthemum shows, which attract tens of thousands of visitors to the conservatory each year.
Date:
Wednesday, January 21, 2015