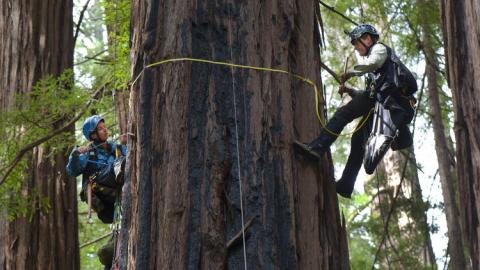 By Joseph Serna
This is one of the few times 777 years old is actually considered young. In a new study by Humboldt State University researchers, the tallest redwood tree in Muir Woods was determined to be about 777 years old, about half of the 1,500 years scientists originally believed.
The finding, initially reported by the San Francisco Chronicle, is the first time the towering Muir Woods trees have been dated -- and the results were encouraging, said Emily Burns, science director with Save the Redwoods League, which is working with the university on a longterm study of climate change's effects on redwoods and giant sequoias -- the tallest and largest trees, respectively, on Earth.
The trees appear to be growing faster as they grow older, despite climate change and, in the last few years, a sustained drought, Burns said.
Redwoods "tend to grow in some of the wettest places in California," she said. Even while the state as a whole sees little rain, the tallest forests are in areas blanketed in fog, rooted in wet soil or at the foot of snow runoffs.
By analyzing the trees' rings, researchers developed a way to decode the redwoods and how they've been responding to environmental conditions, Burns said.
The redwood forests all saw stunted growth around the year 1580, she said. In the last few decades the tree growth accelerated.