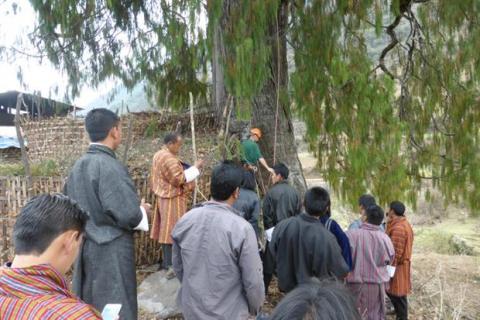 by Elizabeth Henry
Vulnerable natural cypress forests in the Himalayan kingdom of Bhutan may soon be facing a more secure future thanks to a new conservation partnership between local organisations and Scotland-based horticulturists.
A team from the Royal Botanic Garden Edinburgh (RBGE) is working with local officials in Bhutan's Dangchu Valley to create a conservation programme for the Tsenden, Bhutan's national tree.
Cupressus torulosa, referred to as the "Sacred Cypress", is essential in the construction and restoration of sacred temples.
Horticulturists Neil McCheyne and David Gray, experienced arboriculturists from RBGE's Benmore Botanic Garden, in Argyll, and Tom Christian, who works for RBGE's International Conifer Conservation Programme and Perth and Kinross Countryside Trust, are working with partners in Bhutan on the programme.
Christian explained: "The Dangchu Valley is an important ecosystem and natural resource as it contains the largest known natural stands of Tsenden anywhere in the world. However, the forest is coming under increasing pressure as the result of requirements for the construction and restoration of important cultural structures. Therefore, it is essential that these forests are very carefully managed if there is to be a sustainable supply in the future.
"The Royal Botanic Garden Edinburgh works in over 30 countries around the world and it is very encouraging when we come across projects such as this, where it has been initiated by local people and supported by officials including Mayor Sonam Dorji and forestry officer Namgay Tshering."