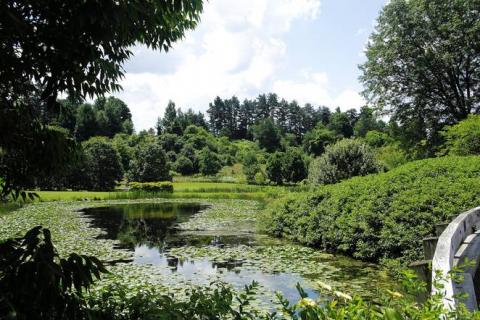 By Max Carol
Cornell University in Ithaca, New York is home to one of the state's largest and most prominent botanical gardens, the Cornell Plantations. Created in the mid-19th century as a part of the university's dedication to the natural sciences, the Plantations consists of a 100-acre arboretum, 25 acres of gardens, and over 4,000 acres of nature preserves.
Unfortunately, an influx of invasive species has put many of the Plantations' over 40 natural areas in jeopardy. Newly introduced non-indigenous species can compete with and consume native plants and animals, dramatically reducing biodiversity in the Plantations. Invasive insects are especially dangerous, as their consumption of native plants could potentially lead to the extinction of trees and flowers that have been housed at the Plantations for over a century.
The hemlock woolly adelgid (Adelges tsugae), or HWA, poses one of the most serious threats to the ecosystems of the nature preserves. HWAs are Japanese insects that feed on the sap of young hemlocks, destroying the trees' needles and branches and eventually killing them. The insect was first found in the Plantations in 2009 feeding on eastern hemlocks (Tsuga Canadensis), trees that are integral to the Plantations' many wooded areas. Eastern hemlocks provide cool, shaded habitats for plants and animals across New York state and cover over 700 acres of land on the Plantations. If left untreated, a hemlock infested with HWAs has a mortality rate of nearly 100%.