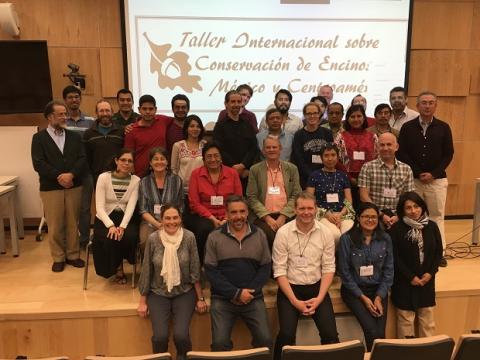 A new professional network is being formed by botanists and conservationists from across North and Central America. Oaks of the Americas Conservation Network (OACN) is a consortium of experts from universities, botanical gardens, arboreta, industry, conservation NGOs, and government agencies dedicated to protecting threatened oak species from extinction. OACN was first conceived at the International Workshop on Oak Conservation (March 13-16, 2016), where 50 experts from seven countries convened at the Escuela Nacional de Estudios Superiores at UNAM in Morelia, Mexico.
The objective of the workshop was to facilitate collaborations and catalyze action for oak conservation in Mexico and Central America (MX & CAM) by identifying critical knowledge gaps, defining conservation objectives, prioritizing next steps, and strengthening the network of oak research and conservation experts.
The workshop agenda included presentations and group discussions on a range of topics relating to MX & CAM oak species, which fell under three broad themes: in situ conservation, ex situ conservation, and fundamental research.
The most significant outcome of the workshop was the establishment of OACN. OACN has now committed to writing a scientific paper outlining the importance of oaks and oak diversity in MX & CAM and calling for additional resources and effort towards oak research and conservation. OACN has identified the urgent need for a conservation gap analysis for oaks in MX & CAM, a protocol for which is now being developed by The Morton Arboretum and the Global Trees Campaign (a joint initiative between Botanic Gardens Conservation International and Fauna & Flora International).
Date:
Thursday, August 11, 2016