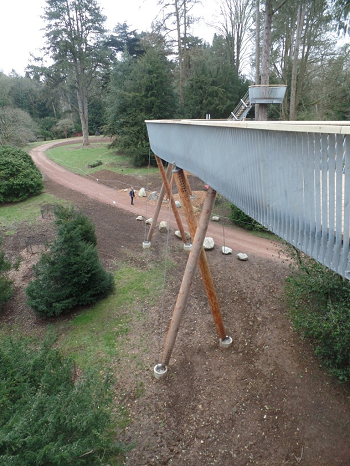 By Fay Tate
For more than 50 years visitors to the Forestry Commission's National Arboretum have been enjoying Westonbirt's magnificent trees with their feet firmly planted on the ground.
But that's all about to change with the unveiling of the exhilarating and much-awaited new STIHL Treetop Walkway – which whisks visitors into and above the leafy canopy for a breathtaking birds-eye view of the world-renowned tree collection. It's believed to be the longest treetop walkway in the UK at 300 metres long.
To be unveiled on 26 April by BBC Countryfile presenter Ellie Harrison, the new 13 metre high walkway will transform the woodland experience by promising spectacular views across the arboretum landscape and enabling visitors to discover more about Westonbirt's 15,000 trees from high above the ground. The walkway will be unveiled to the media at the exclusive preview event, ahead of its public opening on Wednesday 27 April.
The route follows a serpentine path through the trees and along the contours of the site, providing step free access into Silk Wood for people of all abilities, in addition to those using mobility scooters, wheelchairs and pushchairs.
The impressive structure is made from Larch and Douglas Fir and includes over 20 pairs of timber legs, ranging in size from 2.5 metres up to 13.5 metres tall.