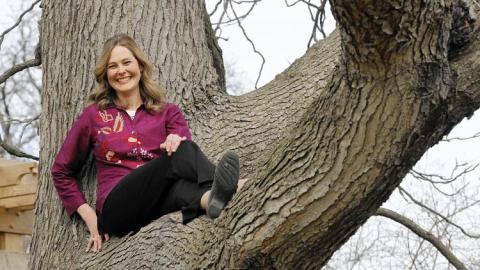 Leslie Mann, Chicago Tribune
For many Chicagoans, The Morton Arboretum in Lisle is a green oasis, its canopied trails beckoning visitors for decades. But for Nicole Cavender, Morton's vice president of science and conservation, the 1,700-acre arboretum is much more than a wondrous place to visit. As manager of its new Center for Tree Science, her mission is oak-tree mighty: to unite a global lineup of experts from diverse fields and learn how trees can survive in our increasingly urban environments. The center is filling a much-needed gap, she added.
"Fewer colleges now have tree-focused programs, or they're folding them into other departments," said Cavender, 41, who oversees a staff of 20. "Federal funding for environmental research is down. It's up to institutions like the arboretum to fill the gaps."
A career in tree science came naturally to Cavender, who grew up, she said, "barefoot and free to explore" the Appalachian foothills in Athens, Ohio, where her father was professor of mycology (fungi) at Ohio University and her mother taught piano. She earned a bachelor's degree in environmental and plant biology from Ohio University, and a doctorate in horticulture and crop science from Ohio State University.
Date:
Wednesday, April 15, 2015