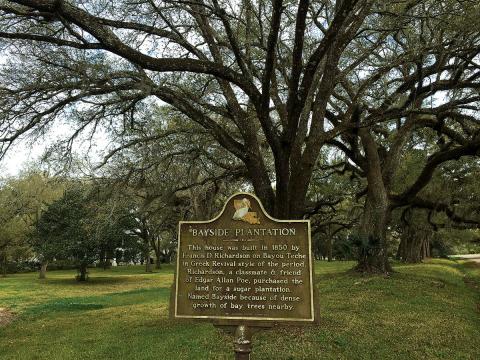 By Vicky Branton
Living beyond human years, live oaks have history
Almost 8,000 trees in 14 states are members of the Live Oak Society which started in 1934 with 43 member trees. Edwin Lewis Stephens, the first president of Southwestern Louisiana Institute, now the University of Louisiana of Lafayette, founded the organization.
According to the its bi-laws, there are no people in the society. Live oaks are the members. Only one lone "keeper of the oaks" holds the key to history of the oaks. Coleen Perilloux Landry, chairperson, is the person responsible for registering and recording the Live Oak Society members.
The registry as of 2012 lists more than 5,600 trees registered from throughout Louisiana. More than 500 new members are being added yearly from across the United States, Landry said. She has already surpassed that number for the year ending May 2016.
Each tree is given a name by its sponsor, often a family name. Determining the girth or circumference of the tree is required for membership. To know the girth, sponsors are told to measure from 4 to 4.5 feet from the ground, or just below the split if a tree branches before 48- to 54-inches in height.
The larger trees are considered "Centenarians" if they have a girth of more than 16-feet. Eight to 16-feet is considered a "Junior League Tree." Through his studies, Stephens declared that a 16-foot girth was a century old, but through the years many tree experts have debated his justification, Landry said.
"Unless someone has documented the planting of a tree, it is very difficult to determine the age," Landry said. "Foresters have decided the live oak National Champion in Lewisburg is over 1,200 years old. It's girth is more than 38 feet."