The Western Larch can live for hundreds of years and grow to over 200 feet, but the oldest Larch trees in northern British Columbia's Bulkley Valley are only about four feet tall. In fact, the nearest full grown Western Larch is nearly 900 kilometers south by the US border, which has been the Larch's natural range for thousands of years. These are the first trees of their kind to be planted so far north.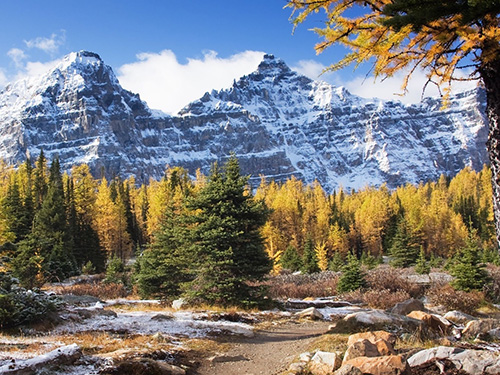 Larch Valley, British Columbia, Photo by Andy Simonds
If the disastrous history of invasive species has taught us anything, it's that it's often difficult to predict the consequences of such a change. Ecologists and conservationists generally caution against moving a species outside of the areas they naturally live —a process known as assisted migration—and governments generally agree with this take. Across North America there are strict prohibitions against the large scale movement of living populations.
But for the past seven years the province of BC has allowed millions of trees to be planted toward the northernmost reaches of their natural range and beyond. The government is working with scientists who predict that our climate is changing so quickly that, 50 years from now, when the trees are fully grown, the conditions in the trees' new homes will actually be more like their old ones.
Date:
Thursday, January 28, 2016