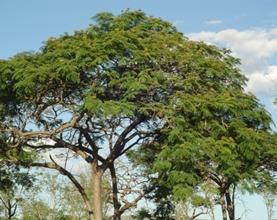 By John R. Platt
For most species, an adult population of just 21 sparsely scattered individuals could be a pretty good indication of impending extinction.
For one critically endangered tree, however, the future doesn't look quite as bad as you might expect.
The tree is known as faveiro de Wilson (Dimorphandra wilsonii), a legume-bearing species that grows in and around Brazil's sixth-largest city, Belo Horizonte, about 440 kilometers north of Rio de Janeiro. Founded in 1701 and now home to more than 2.25 million people, Belo Horizonte (or "beautiful horizon") has grown dramatically over the past century, causing a great deal of habitat fragmentation in the hills and mountains that surround it. Faveiro de Wilson is just one of the many species that have been pushed aside in the process.
Faveiro de Wilson has particularly suffered from its habitat's fragmentation. The results of tests published April 29 in Tree Genetics and Genomics reveal that the trees have an extremely low level of genetic diversity, a sign that they have reached a genetic bottleneck. Other species with similarly low genetic diversity often face risks ranging from mutations to susceptibility to disease to the inability to successfully breed the next generation.