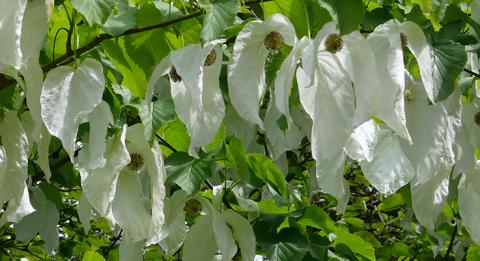 By Elizabeth Peterson
Experts from near and far recommend options for diversifying — and strengthening — the urban canopy.
Tried-and-true trees punctuate the skies above cities and suburbs, lining streets and casting shade. But, too much of a good thing can cause problems. When there's too many of just one tree variety planted, disease and/or insects can find a way to wreak havoc on whole groves.
"We need a diverse, resilient urban forest," said Martin Nicholson, curator of Hoyt Arboretum in Portland, Oregon. "So it is important not to overplant any one type of tree."
In Portland, for instance, maple trees make up nearly 30 percent of the city's tree canopy. Instead of planting more of the same, designers and property owners have an opportunity to consider other options. But without a history of reliability in a region, it can be challenging to choose from lesser-known tree options. Knowledge is power, though, and tree experts are ready to suggest great trees that deserve wider use.
Hoyt Arboretum, which houses large collections of trees and shrubs, including some 1,300 species or cultivars of trees, is a great local resource. Trees from a variety of native ranges are tested there to establish how appropriate they are for use in the Pacific Northwest.
Of course, just knowing about a great tree is not enough; trees also have to be available on the market, so the industry also needs to keep seeking new options and to push the envelope for what can perform well in the area.
Date:
Wednesday, August 10, 2016