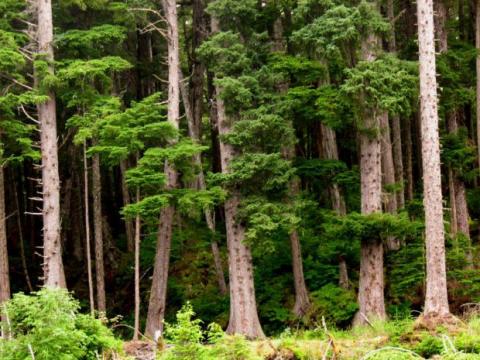 One of these Alaska tree saplings is not like the others. Each one of its needle-covered branches resembles a feather, each feather comprised of green scales. Young yellow cedars like this one droop more than the common conifers, Sitka spruce and western hemlock. And on this Juneau trail, it's the only yellow cedar in sight.
Yellow cedars grow from Northern California to Prince William Sound. But in the southern portion of its range in Alaska, yellow cedar has declined so extensively, it's classified as a severe forest die-off. Some conservationists worry that it could become the first tree to go extinct due to climate change.
Reduced snow cover induced by warmer winters is considered the main cause of the die-offs. With less snow cover providing insulation, root systems can freeze.
The status of yellow cedar, a slow-growing tree that can live 1,200 years, is under review by the U.S. Fish and Wildlife Service, which is considering federal protection for the trees as either threatened or endangered. A listing petition was submitted in 2014 by three environmental groups and a tour company that operates in Southeast Alaska.
With their long lifespan, yellow cedars fill an important ecological role in the forest. Both their leaves and surrounding soils host unique bacterial communities. Yellow cedar trees offer chemical diversity to a coastal ecosystem made up of few tree species. And this distinctive chemistry gets recycled through the forest. Deer rely on yellow cedar too, eating seedlings and seeking shelter beneath mature trees.
Date:
Wednesday, March 30, 2016