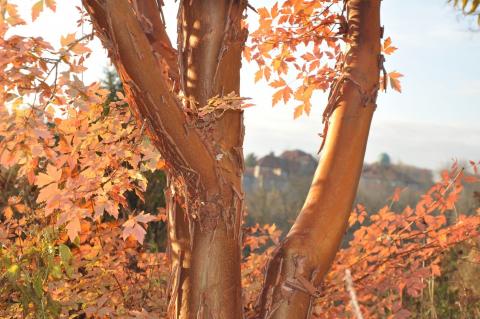 by Adrian Higgins
When I look at the paperbark maple tree outside my window, I see a choice ornamental plant whose peeling, cinnamon-colored bark will only get more beautiful with age (sort of like me, ha-ha).
When Tony Aiello looks at his home-garden specimens, he sees the giant panda of the plant kingdom. Like the panda, this species is running out of individuals in its native habitat in central China, and it may come down to those in our little plant zoos — that is, mine, Tony's and yours, if you have one — to help bring the wild Acer griseum back from the brink. No one is knocking on my door for pollen or seed at the moment, but the idea that I'm growing a tree that is imperiled is sort of exciting and decidedly unexpected. "When I tell people it's endangered in China, they're very surprised," said Aiello, director of horticulture at the Morris Arboretum in Philadelphia.
The paperbark maple was introduced to the West more than a century ago by the intrepid plant collector E.H. Wilson, but it has remained a fairly uncommon garden plant, in part because Wilson started with only about 100 seedlings.
Part of its rarity — in commerce and in nature — is due to the fact that it sets very few fertile seeds. Another major problem is that cuttings don't root, so the nursery keeper has to make new plants from a limited number of seeds.