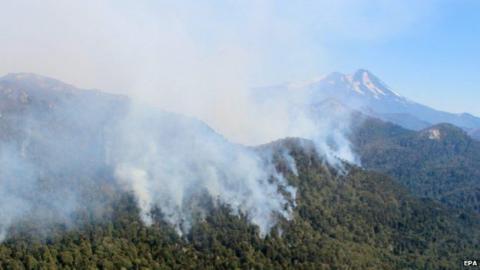 BBC
Firefighters have been fighting the flames for more than a week in the southern region of Araucania hit by years of drought. The fires are affecting a park famous for its centuries-old pines known as monkey puzzle trees.
President Michele Bachelet said the country's drought was critical. She announced millions of dollars of investment to improve access to underground water and to construct desalination plants to provide drinking water. "Faced with this critical situation, there is no choice but to assume that the lack of water resources is a reality that is here to stay and that puts at risk the development of important regions of our country" President Bachelet said.
The fires are burning in three protected areas: China Muerta National Reserve, Nalca Lolco National Reserve and Conguillio National Park.