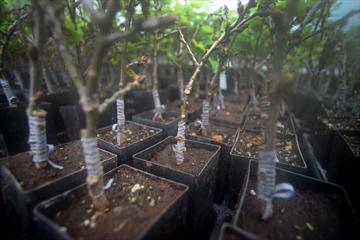 Mark McNeil
The rows of potted oak saplings don't look all that extraordinary in the big white greenhouse in West Flamborough, amid the thousands of other staked plants around the sprawling nursery operation.
But within their emerging leaves lies a botanical connection to one of greatest events of Canadian history — the Battle of Vimy Ridge that began 98 years ago today.
Leslie Miller was a Canadian soldier who managed to survive the bloody First World War victory won by Canadian troops April 9 to 12, 1917. He sent home a souvenir of the experience, a bunch of acorns from a blown-out English oak on the battlefield.
Those acorns were planted in an orchard he ran in Scarborough. And today about 10 trees stand more than nine metres high as a living connection to the epic battle that led to 10,000 Canadian casualties. Miller died in 1979 at the age of 90.