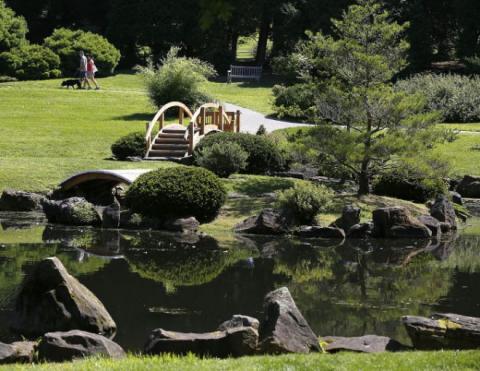 By Meryl Gottlieb
Junie Wysong, 41, has visited the Japanese Garden at the Dawes Arboretum near Newark since she was a little girl. Now, she walks the garden's path not with her mother and two siblings but with her daughter Shala, 19. They admire the garden for more than the beauty and relaxation it delivers. With her heritage tied to both Thailand and the United States, Shala said she appreciates seeing two cultures being brought together in the garden. "It opens the road to diversity, allowing people to honor their culture," Junie said. It's a road that has been open for 50 years.
Landscape architect Makoto Nakamura designed and constructed the garden in 1963 and 1964. Ever since, it has been one of Dawes' most popular sites, said Luke Messinger, executive director of Dawes.  At 17 acres, the Japanese Garden features four styles of popular Japanese landscape design: hills and pond, karesansui (a dry landscape), a resting house, and a hide and reveal.  "It's not your typical park," said Brent Pickering, director of landscape operation. "It's so much culture in a tiny little space in the middle of Licking County."
The garden recently reopened after a two-year restoration that centered on upholding Nakamura's original design. Much of the work focused on restoring its walkway, bridges, the resting house and stonework, which had all faced significant wear through the decades.